Your Link to the Stream will be emailed to you 10 minutes before the show
On Stage 7.30pm
PAUL JONE & MIKE D'ABO
This is a unique opportunity to see the pioneers of British rhythm & blues band Manfred Mann's lead vocalists in your living room
The '60s group Manfred Mann is now considered, more than ever, one of the finest and most respected bands from that era. Their numerous hits were R&B based with an undercurrent of jazz - a very unusual but winning combination of playing style and substance.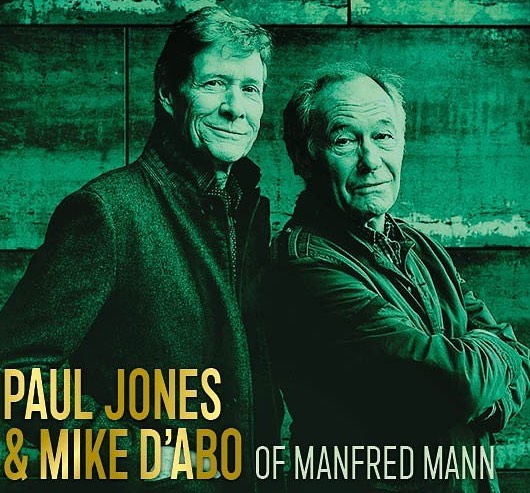 As a result, their records have a timeless quality and, some 55 years on, original frontman, Paul Jones and his replacement Mike d'Abo, who each secured a string of hits with the band, Jones from 63-66 and d'Abo from 66-69. , will be performing many of their hits including, "
Pretty Flamingo"
,
"Mighty Quinn"
,
"Do Wah Diddy Diddy"
, one of the most popular and instantly recognisable songs of the '60's, and still the biggest audience pleaser at their concerts, along with a mix of tracks from their individual solo albums including the d'Abo penned classic,
"Handbags and Gladrags"
.
The group were regularly in the UK charts in the 1960s. Three of the band's most successful singles, "Do Wah Diddy Diddy", "Pretty Flamingo" and "Mighty Quinn", topped the UK Singles Chart.Their 1964 hit "5-4-3-2-1" was the theme tune for the ITV pop music show Ready Steady Go!. They were the first southern-England-based group to top the US Billboard Hot 100 during the British invasion.